Posted by Cory List on 11th Sep 2014
An e-commerce site is like any other site but it functions differently. It is not an ordinary page because it works like an online store and it is expected to perform like one: it can accept orders, payments and so welcome business from different clients.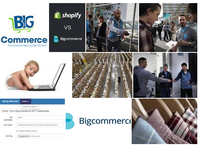 If you have an e-commerce site, you will need a different platform for this and an example is Bigcommerce. Many businesses use Bigcommerce and they have a lot to say about the service:
Easy-to-use. For someone who does not have the technical knowledge to build an e-commerce website, Bigcommerce makes it an easy job to work on because it is fairly straightforward. You do not have to be an expert web designer to own a website and facilitate it on your own. Even a newbie can work his way around the platform.
Attractive templates. When a customer visits an online shop, he makes this decision based on a number of things and the appearance of the website is one factor. The usefulness and function of the site is also important, so choosing the right template is necessary. Bigcommerce offers a variety of templates for you to choose from, so this means you can pick the right look and feel for your business website and you do not have to spend so much money employing a web designer for this purpose.
Easy integration. If you have other software that you would like to install on your website, Bigcommerce affords easy integration of any third-party software so that you can enjoy smooth functionality.
Reliable blog feature. An e-commerce site can behave differently. It is best when the site has a blog feature because it enables the owner to engage with customers in a more personal way. Through the blog portion of the website, information dissemination is going to be most efficient and definitely easier.
Big room for potential. Those who have been with Bigcommerce, for a time now, know that they have always sought to be better. Constantly improving, you can rest assured that your e-commerce platform will keep on making improvements to better serve your purpose.
There are different types of platforms out there. Bigcommerce is only one of the many options you have and for you to find out if it is the perfect fit, you can start by giving it a try.